A Collection of Projects Facilitated by Daniel Dancer
"A joyful power is released when individuals join together
as a temporary community to create something beautiful."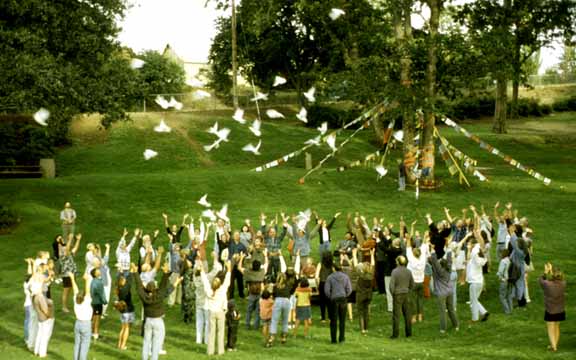 All Faiths Tree of Life Living Peace Mandala,
September 11, 2002, Hood River, Oregon.
In silence, one hundred people walked the giant spiral marked upon the ground, leading from the sacred oak tree. After prayer and more silence, 30 white doves were released from the center.
* * * *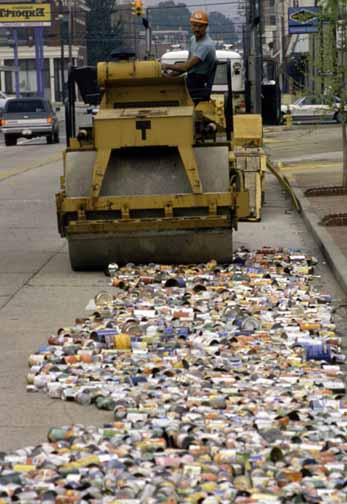 In the summer of 1995, thousands of gallon cans from a local prison
were dumped upon the street in front of the city hall in Gadsen,
Alabama and smashed to create the material for the Coosa Spiral.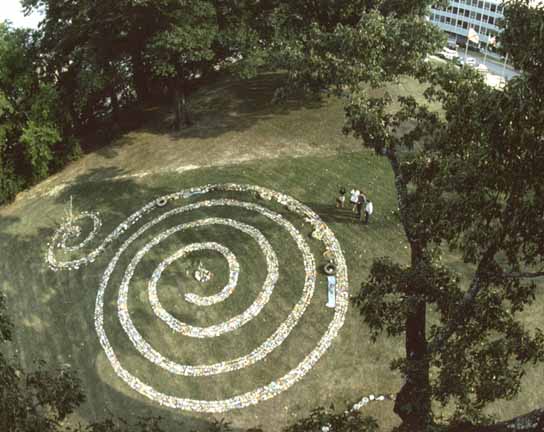 Working with a local school ecology club, Dancer placed the collection of garbage gathered along the Coosa River, on the outside line of the big spiral, which contained, at it's center, a living "tree of life." The garbage led to a smaller, reverse spiral which, at it's center, contained the "tree of death." Citizens were
encouraged to walk the spiral during it's month long installation. The mayor did so on the first day and proclaimed that Gadsen would develop a recycling program. It now has one in place.
* * * *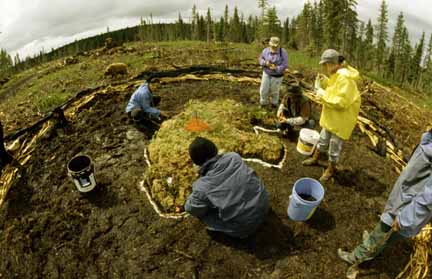 Near Homer, Alaska, in the fall of 1998, in the middle of a Chugash National
Forest clearcut, we built a circle from found materials, planted young trees and created a mounded bear formed from moss and pine cones and lined with ash. Pitch was set on fire in the bear's eye while everyone circled around.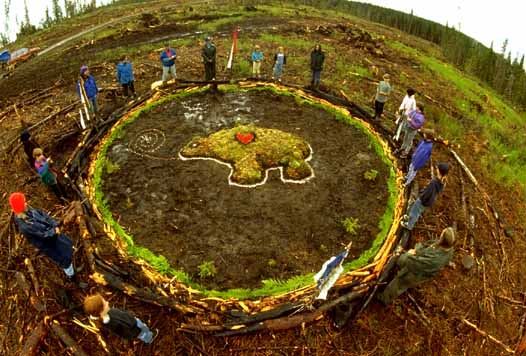 We named it, Bear Witness Circle.
* * * *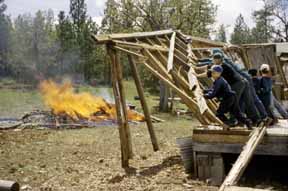 For many years, old dilapidated buildings and scattered junk
littered the beautiful meadow at the edge of Rock Creek Canyon
on Sacred Earth Foundation land near Goldendale, WA.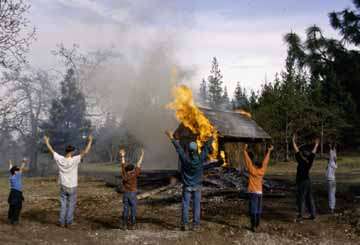 During a three-day Ekone summer camp project with a Seattle
Waldorf School, participants completely restored the area. They burned,
recycled, and loaded a huge truck for the junkyard. Everyone was asked
to collect something special from the old buildings, something that would
be added to a "medicine circle" and ceremony upon the project's completion.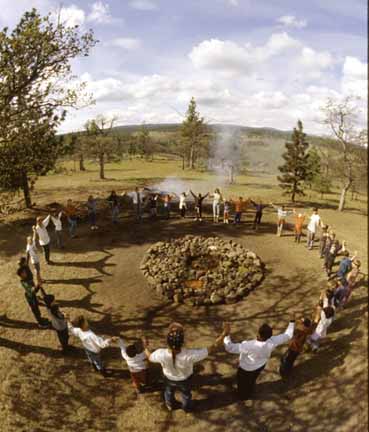 Restoring the Canyon Rim Project, Ekone Ranch, WA. 1995.
* * * *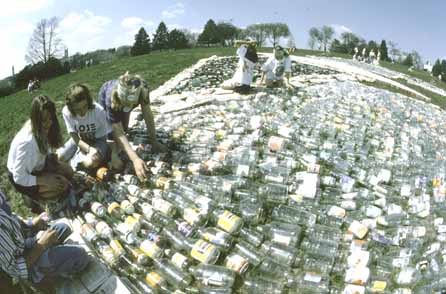 In 1989, in Omaha, Nebraska, UNO Art Museum Director Nancy Kelly and
I inspired children of the community to save their recycling and bring it to the park. Lining up all the materials in the proper manner, participants created a special version of the important symbol familiar to everyone.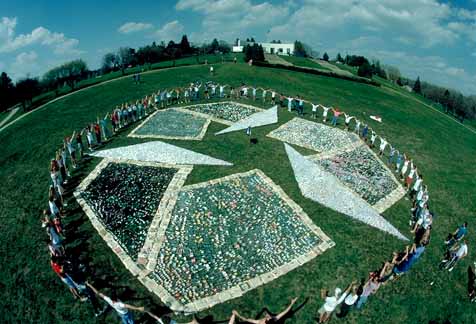 Recycle!
* * * *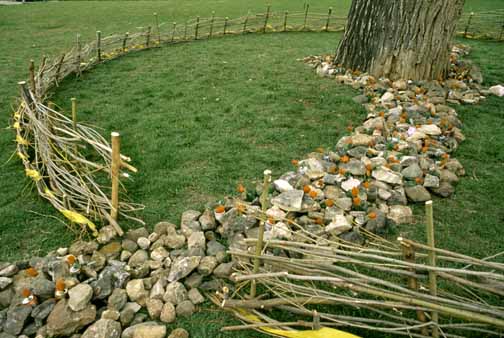 On June 9-10, 1972, fifteen inches of rain fell in six hours, causing Rapid Creek to flood. 238 people died when the raging waters rushed through the heart of Rapid City, South Dakota. Thirty years later a development corporation submitted plans to build a shopping center on the greenway where so many people had died. In an effort to raise awareness about the need to protect the greenway as a park, the New Gallery sponsored Daniel Dancer to work with college students to create something special to honor those that lost their lives and to highlite the importance of keeping this land free from development. A woven willow fence was formed around a giant cottonwood with a river of stones running out from it's center. 238 roses were placed by citizens amongst the stones to commemorate all those who had lost their lives in the flood.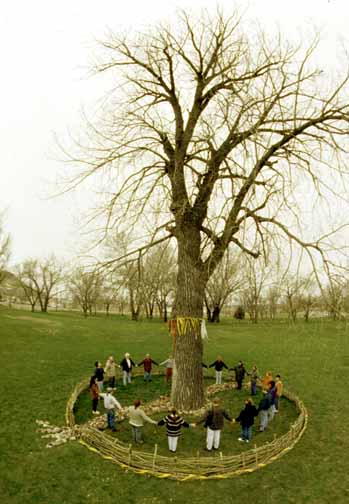 Participants proclaimed the area "Sacred Ground" and named the creation,
The River Basket. The plan to develop the area was soon defeated and
today the land is protected by a local Land Trust.
* * * *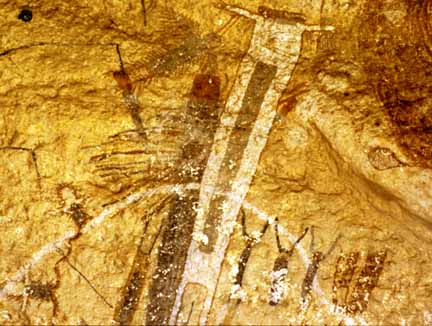 Inspired by the nearby "White Shaman" pictographs along the Pecos River in southern Texas, Dancer led community participants in a found materials construction along the Amistad Reservoir. The reservoir dams the Pecos River causing a number of environmental problems.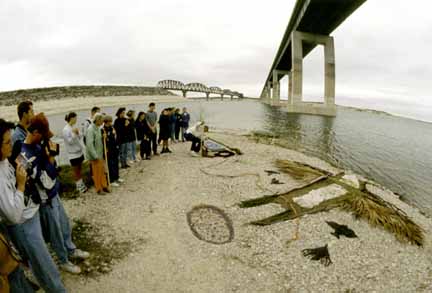 A powerful natural shaman was built with white river rocks and desert plant fibers.
It emerges flying from a hole, carrying a "life-line" which it throws to "toxic-man" represented by man-made materials and rocks wrapped in blue Wal-Mart bags found attached to area sage bushes.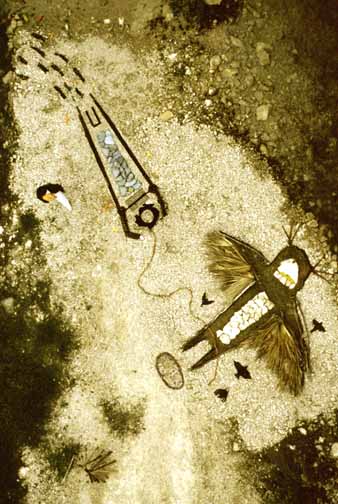 Life-line to Toxic-Man,
Amistad Reservoir, Del Rio, Texas. 1996
* * * *
"Mother Gaia dances with her rattle in front of a mural of
Condit Dam which is about to crack open, with a dozen white
doves flying though making way for the flowing river.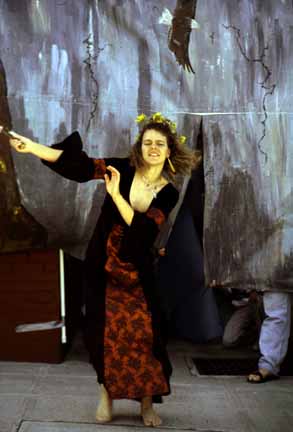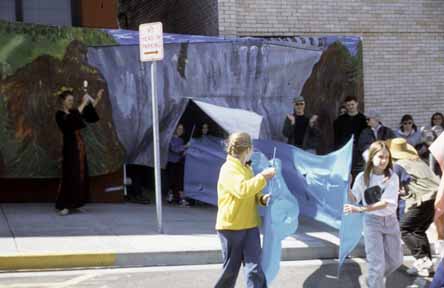 Out pours the White Salmon River, free again after being dammed for 90 years.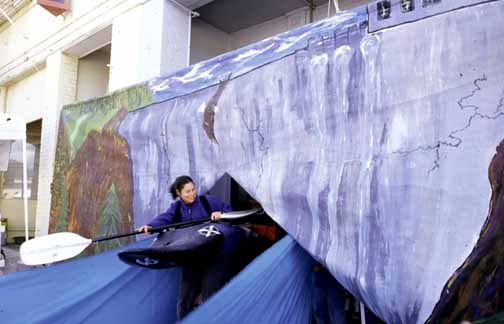 A kayaker makers her way through the dam opening followed by salmon after salmon, all carried by members of the community. Thanks to a decade of activism, Conduit Dam, in Washington is scheduled to be removed from the White Salmon River in 2008 freeing 40 miles of salmon habitat.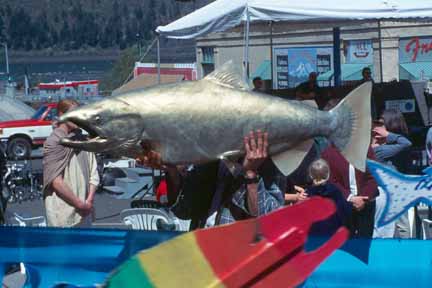 Third Annual Long May You Run Salmon Pageant,
2002 Hood River, OR.
* * * *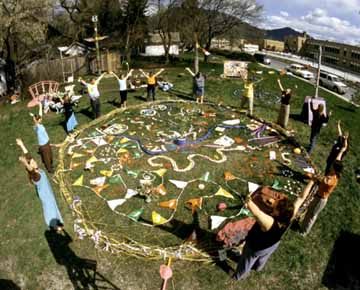 Chewelah Art Council Found Materials Mandala
Chewelah, WA
* * * *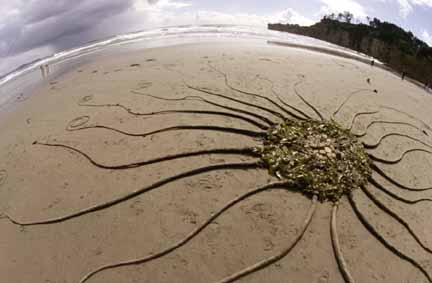 Solstice Star,
Found Materials Community Sculpture, World Whale Day, Seaside, OR. June 21, 2000
* * * *
UNO students brought broken recycled cans, computers, tv's and other
techno-junk to the museum lawn and co-created a spiral of life and death.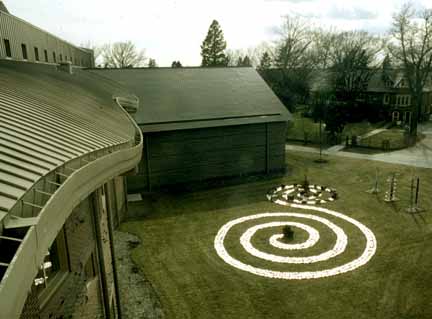 .

Spiral of Life and Death,
Omaha, Nebraska, 1997
* * * *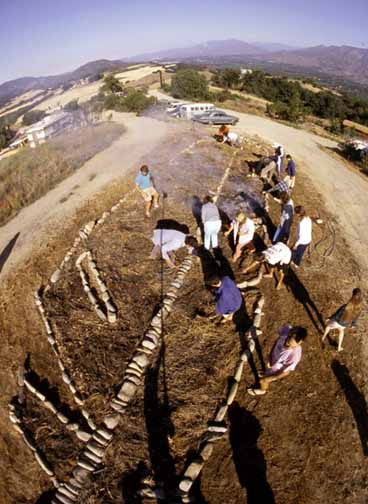 At the Ojai Foundation in California in 1990, Dancer led a group of students in a week long creation of a 100 ft. condor feather prayer stick high on top of a hill. Built from rocks collected along the ocean and ash from burned brush in the center, the site is maintained for ceremonial purposes. We chose a name for the piece that would reflect our notion that it would help bridge a better relationship between humans and nature.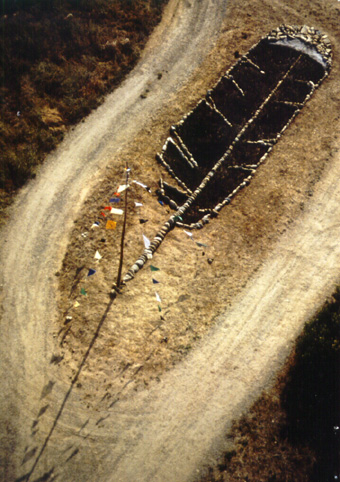 The Feather Bridge