Chances are, if you are reading this and decide to take a leadership role in hosting an Art For the Sky program in your region, then you will become one of several Sky Captains during the project. Just who are "Sky Captains" and what do they do and why are they listed under "About Us" on this website? Sky Captains are adults who take a leadership role during the creation of the image. They are essential in the Art For the Sky's many successes over the years.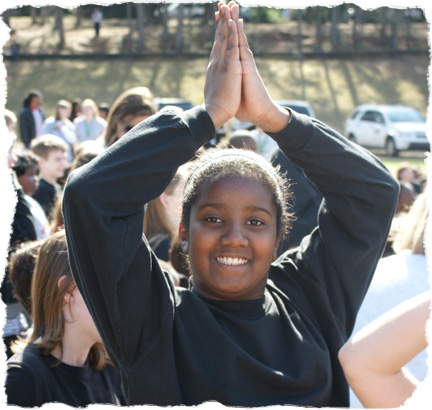 Each project has from 3 to 10 Sky Captains depending on the complexity of the image and number of participants. In school projects, these are parent volunteers and school personnel who aren't responsible for a particular class such as counselors, student aids, librarians, secretaries, principals, etc.. In most cases, no particular skill is needed besides a passion to be a special part of the event! There are three particular ways to be a Sky Captain and many do all three. Usually on the day before the event volunteers help spread and organize materials on the image which often involves supervising student helpers as in the picture below.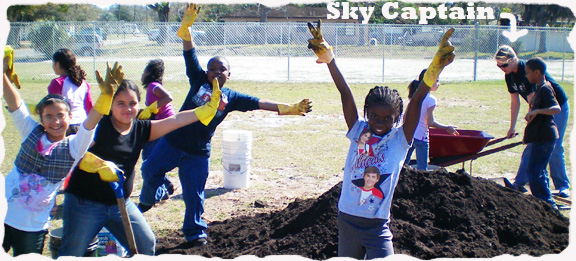 We need the most Sky Captains on Event Day. Each one takes responsibility for a particular assigned region of the design and need not worry about the rest. They guide appropriately colored participants in to the fin, leg, head or body region of the design and instruct them on how far apart to sit and then, with the help of teachers whom they've also instructed, watch over their "flock" throughout the event. It's super easy. All they have to do is mind their "home" . . . a great metaphor for taking care of our planet!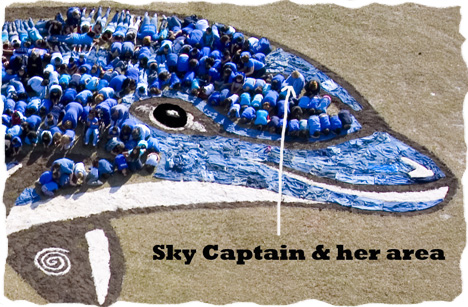 A very important duty for a special sort of Sky Captain is that of being an on the ground photographer during the event, roaming around with their camera getting those special candid shots that really capture the joy, excitement and adventure of each event. Two or three talented "Sky Captain Photographers" are always needed. Their images are downloaded after the event for inclusion in the DVD/film of the project and add tremedoulsy to the power and emotion of these films! Photographers should come prepared with appropriate cables for computer transfer after the event. Their images provide a lifetime record of the project and they are credited in the DVD. See some of their wonderful pictures on SkyFaces.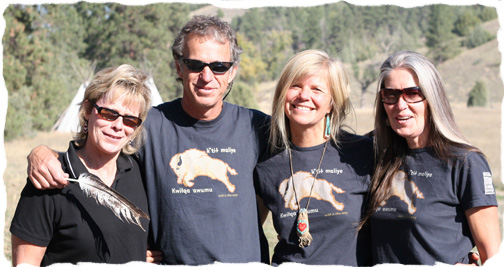 To all the Sky Captains I have worked with over the years, like those above from the Big Medicine project in Montana, I send you my Great Gratitude for none of these projects could have happened without your very valuable and passionate collaboration. You all are a model of how to accomplish the seemingly impossible when we all collaborate together with one vision in mind.
T H A N K Y O U !