Page 2 .
+ + + +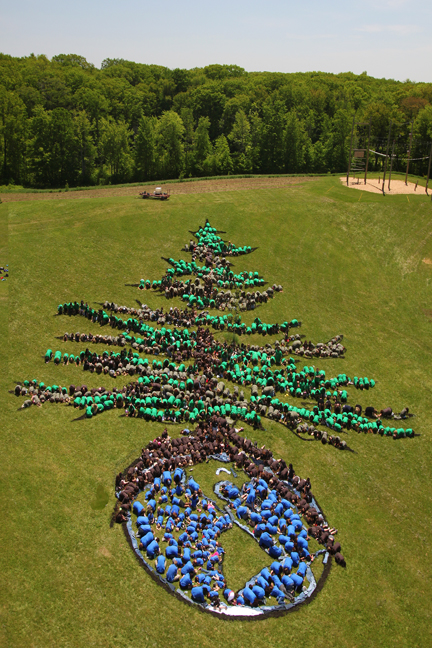 The Tree of Peace - Six Nations, Ontario, Canada - 2011
+ + + +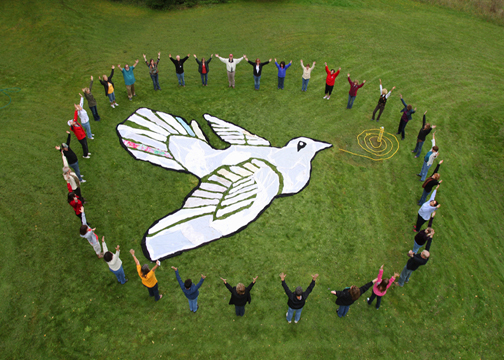 White Bird - The Wisdom Group circle a dove made of sheets during their
Whidbey Island conference, in a special ceremony to awaken their skysight. 2010
+ + + +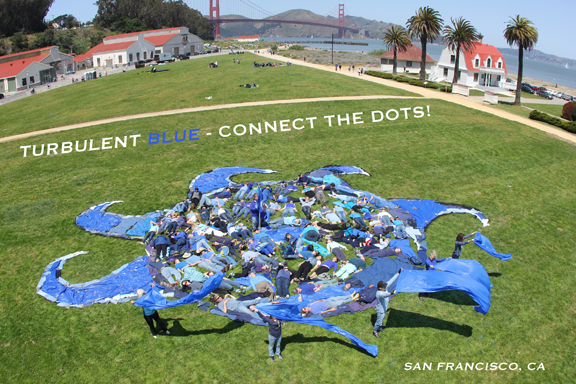 On May 5, 2012, activists all over the world created art to highlight the impacts of
climate change. In San Francisco people formed a stormy wave to show the impending
danger of rising sea levels to people in the Bay Area.
+ + + +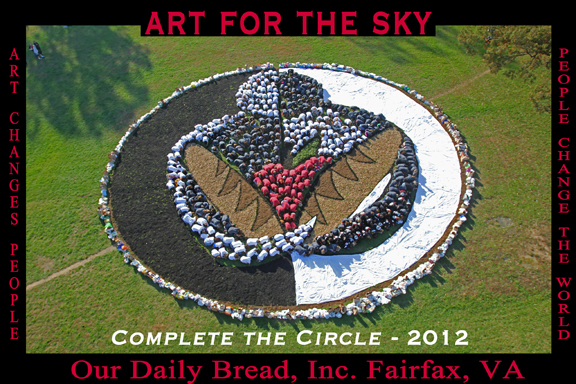 + + + +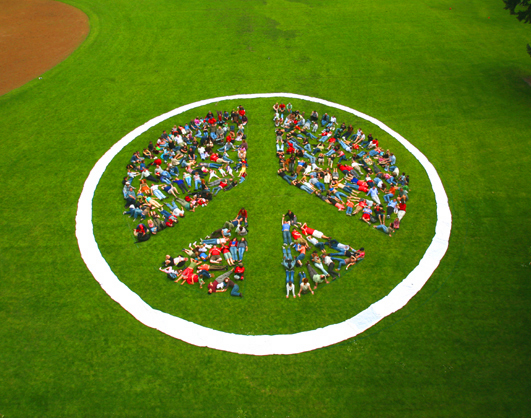 Human Peace Symbol, 2007 Sellwood Park, Portland with the Community of Adsideo. The peace sign started simply as a symbol of the Nuclear Disarmament movement (the arms of the shape inside the circle are a combination of "N" and "D" in semaphore). Watch the short video of the project, Om To Gaia
+ + + +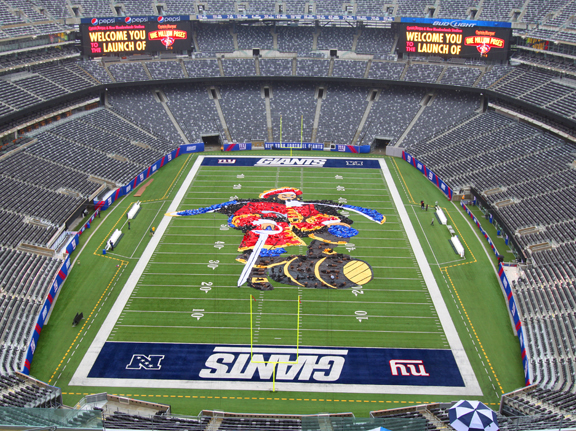 "Captain Morgan" - In Giant Stadium in New York, a 180 ft version of the Captain
was created out of fabric and filled with 500 people doing "the pose" as a rollout
of their One Million Pose campaign . . . for each pose, 1 dollar is donated to charity.
Watch the amazing 1 min time lapse of this creation! .
+ + + +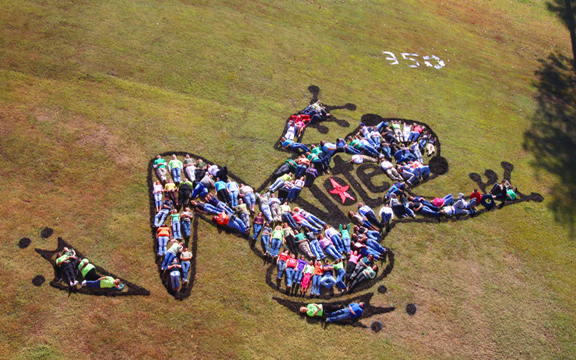 The Patriot Frog - In Gadsden, Alabama 120 participants gather to create a message for the city and the nation . . . "Hop out to the polls and vote!" 2010
+ + + +

+ + + +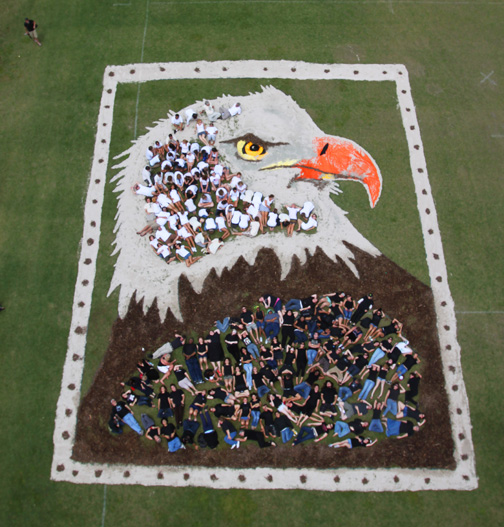 Earthday Celebration at Florida Gulf Coast University, Ft Myers, 2010
+ + + +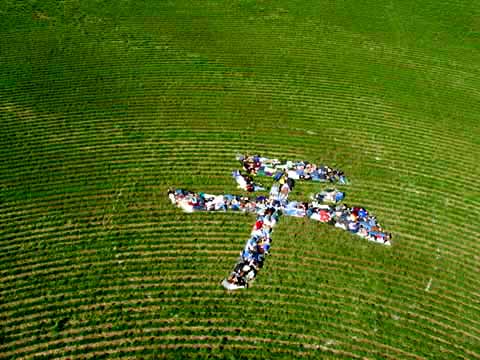 Chinese Symbol for Peace. Portland, Oregon, March, 2003.
100 people gather on a cold sunny day at the beginning of the Iraq War.
(They did the symbol in the nude as well, part of the world wide baring witness project)

+ + + +
H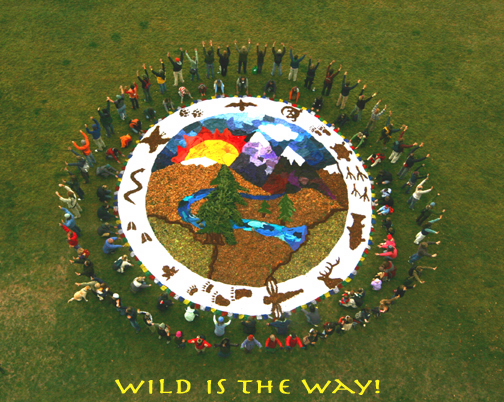 The Boze-Mandala, Bozeman, MT Bioneers Conference, Fall 2006
+ + + +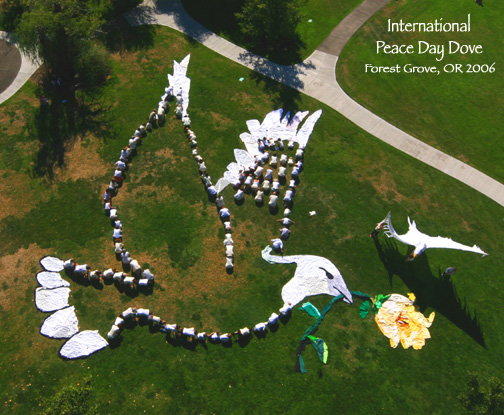 Look close . . . there are 3 doves in this picture. Right of center, above the head is a small live dove released during the peace ceremony. Then there is the giant dove puppet and of course the big one bearing a yellow rose! This project was done with the local chapter of Jane Goodall's Roots and Shoots program

+ + + +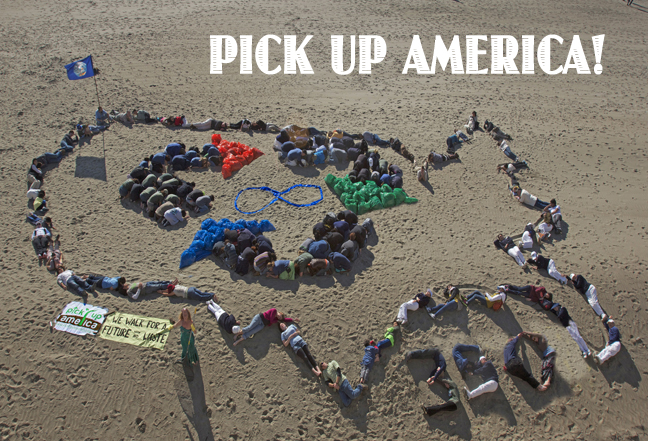 To celebrate 3 years of picking up trash across america the Pick-upAmerica group celebrated the ending of their epic adventure on the beach in San Francisco by creating their logo: the recycle symbol with an infinity sign in the center. November 2012

+ + + +
SNOWFLAKE: The California Sustainbility Studies Coalition depict a snowflake in celebrationof the "snowflake model of leadership" at the CSSC conference at Butte Community College in November, 2012.
+ + + +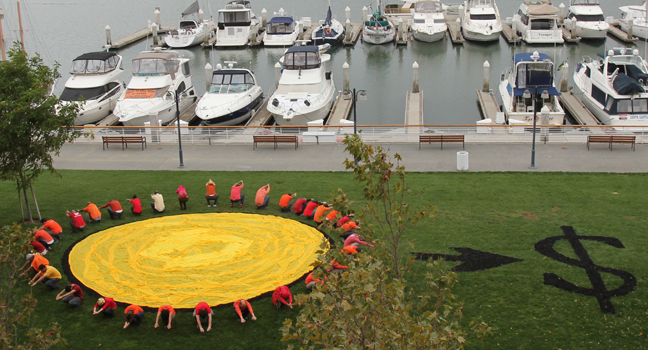 SunDollars : The Solar Mosaic company demonstrates how using the sun can save money!