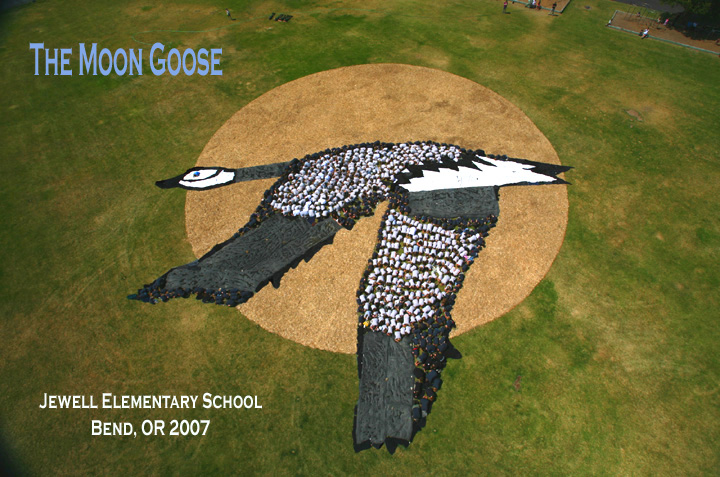 750 students and staff, 12 yards of shredded bark for the "moon" and a truck load of black
and white clothes form a Canada Goose flying across the moon. This was Jewell's
second Art For the Sky residency. This was Jewell's second AFTS residency project.
+ + + +
+ + + +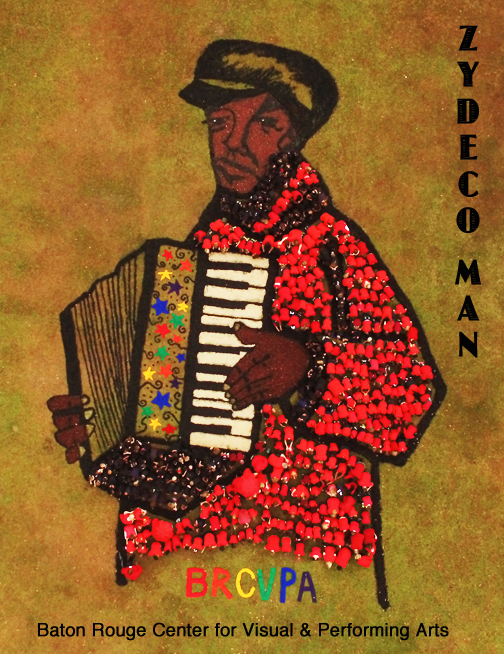 + + + +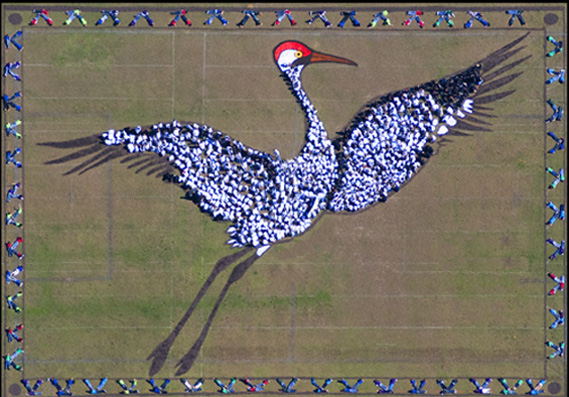 The Whooping Crane's Blessing - 1000 students and teachers at Gilchrist Elementary
in Tallahasse, Florida formed an endangered whooping crane in honor of a small flock which arrived at their new home at a nearby wildlife refuge as the project concluded . (See Operation Migration) The border design depicts the Seminole Indian symbol for "bird." The film of this projects depicts the gift of a feather falling from the bird.

+ + + +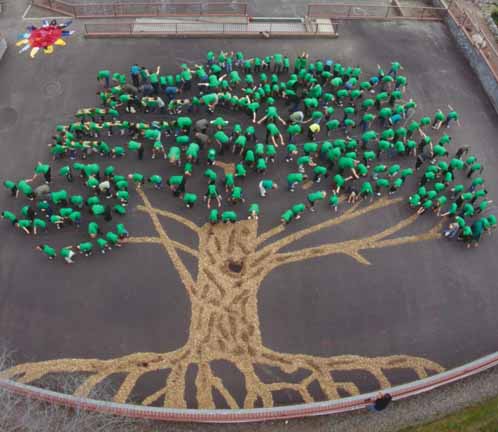 Tree of Life, Ashland, Oregon - April, 2003
250 kids and teachers form "the tree of life" modeled after a 100 year old cypress in front of Briscoe Elementary School planted when the school was built.
+ + + +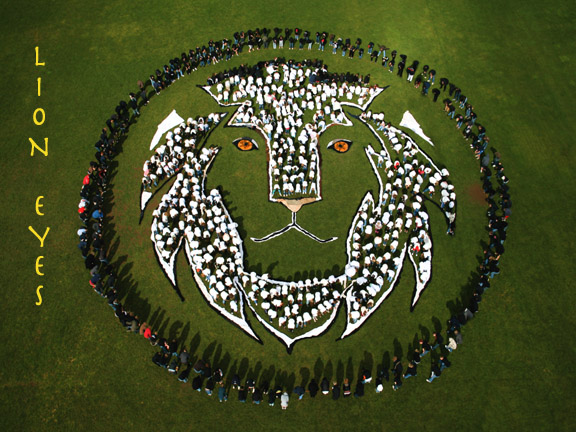 700 students from Liberty Middel School in Camas, WA took the shape
of the head of a white lion . February, 2007.
+ + + +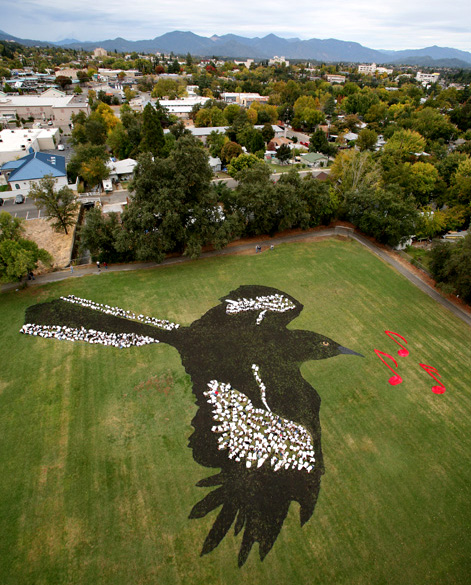 Mockingbird Sky
550 students from Juniper Academy and Cypress Elementary, 16 yards
of shredded bark and some red thrift shop clothes form a mockingbird
in Redding, Californina . . .part of the Big Read project sponsored by the
NEA andShasta Public Libraries. Fall, 2007
+ + + +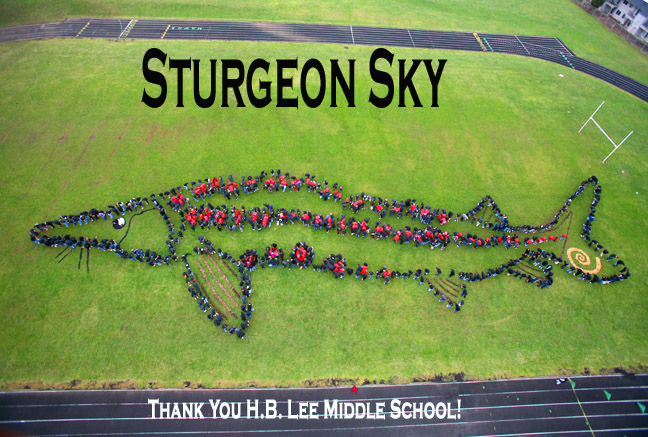 850 students and teachers pay tribute to the world's largest freshwater fish.
Gresham,Oregon. "Art for the Sky' has enlightened our students to a magnificent kind of art that can only be achieved by the coming together of many individuals to make one. We have been trulyinspired by your vision!"
-Sue Carter, Principal, Gardner School, Vancouver, WA
+ + + +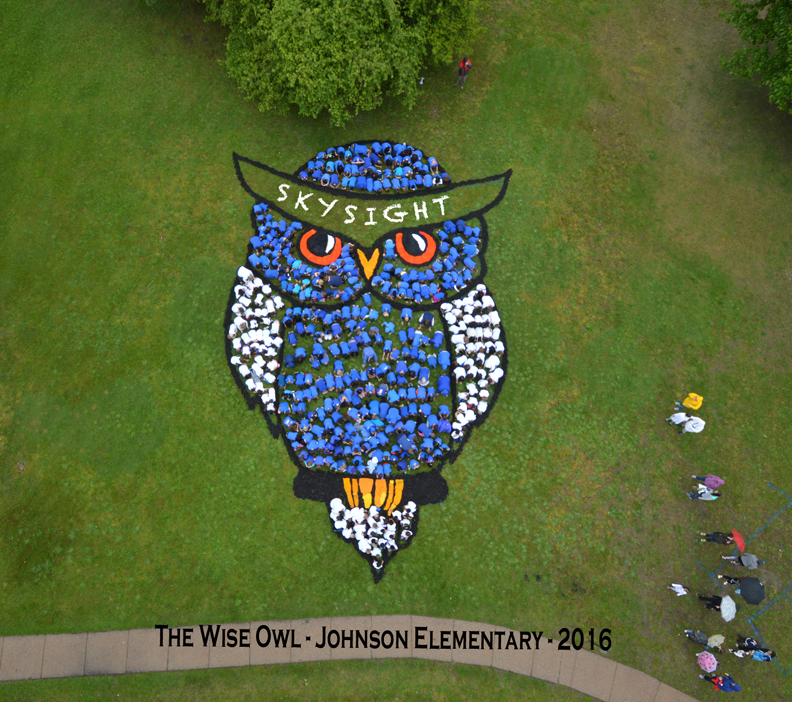 + + + +.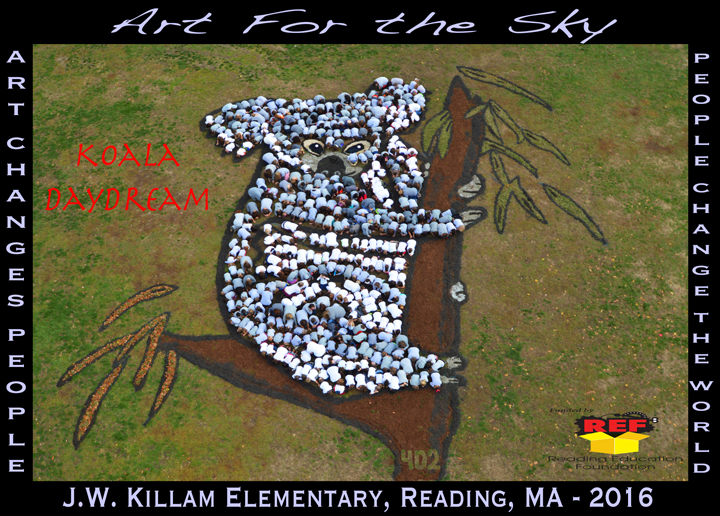 + + + +
+ + + +
A special thanks to all the crane, fire truck and utitlity companies that have donated their services to make photography of these images a reality!
We could not have done it without you!
Sky Gallery Pages