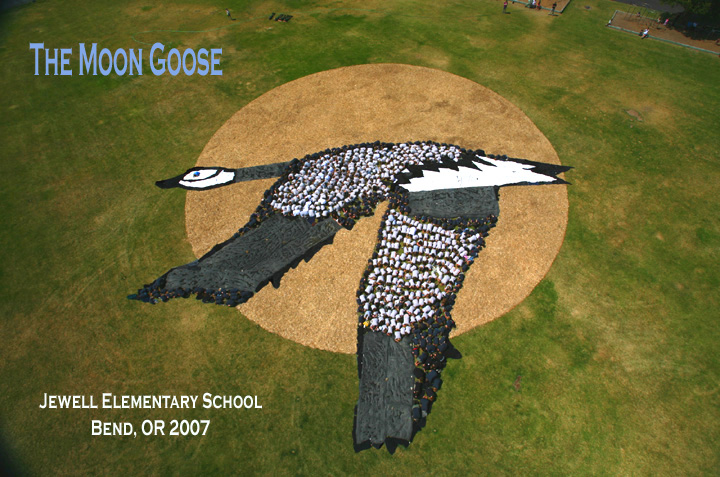 750 students and staff, 12 yards of shredded bark for the "moon" and a truck load of black
and white clothes form a Canada Goose flying across the moon. This was Jewell's
second Art For the Sky residency. This was Jewell's second AFTS residency project.
+ + + +
+ + + +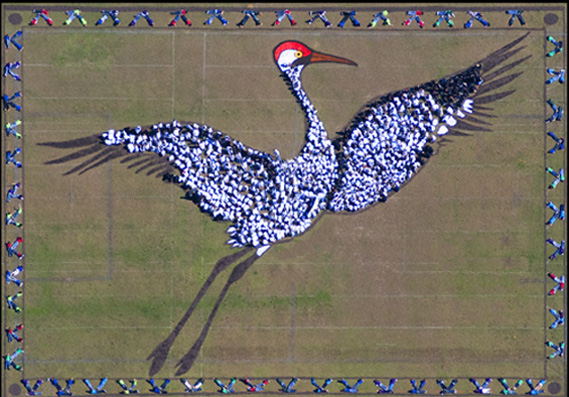 The Whooping Crane's Blessing - 1000 students and teachers at Gilchrist Elementary
in Tallahasse, Florida formed an endangered whooping crane in honor of a small flock which arrived at their new home at a nearby wildlife refuge as the project concluded . (See Operation Migration) The border design depicts the Seminole Indian symbol for "bird." The film of this projects depicts the gift of a feather falling from the bird.

+ + + +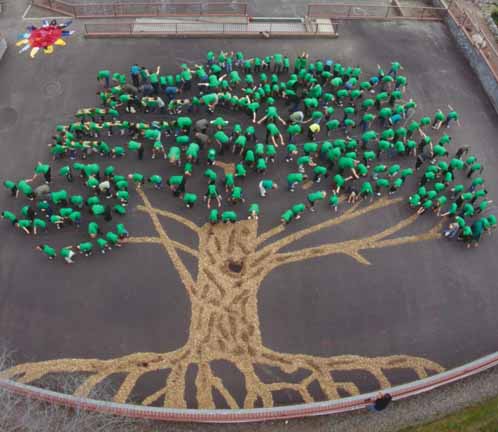 Tree of Life, Ashland, Oregon - April, 2003
On the school basketball court, 250 kids and teachers form "the tree of life" modeled after a 100 year old cypress in front of Briscoe Elementary School planted when the school was built. As with each sky art project, participants bodily experience their interconnection with one another as many leaves on a single tree, each one equally important to the whole.
+ + + +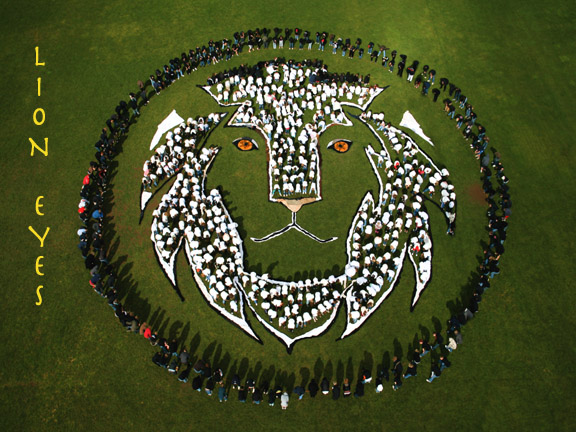 700 students and staff from Liberty Middel School in Camas, WA took the shape
of the head of the very endangered White Lion. The title, Lion Eyes, is at the heart of the
teachings of Art For the Sky . . . we need to evolve into beings who know how to see through the eyes of all beings. As we are learning these days, since everything on Earth is interconnected, the best way to care for ourselves, is to take care of the needs of lions, salmon, whales, etc.. February, 2007.
+ + + +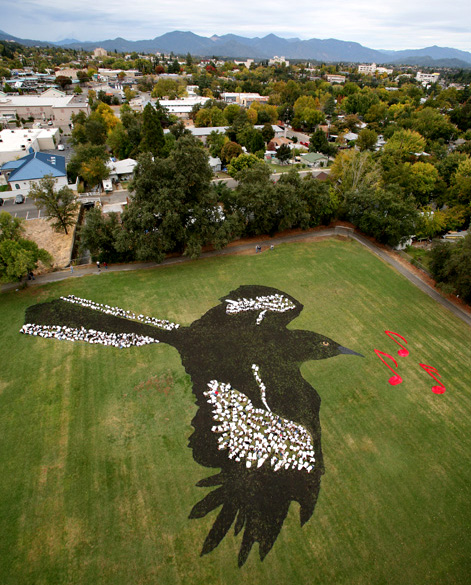 Mockingbird Sky
550 students from Juniper Academy and Cypress Elementary, 16 yards
of shredded bark and some red thrift shop clothes form a mockingbird
in Redding, Californina . . .part of the Big Read project sponsored by the
NEA andShasta Public Libraries. Fall, 2007
+ + + +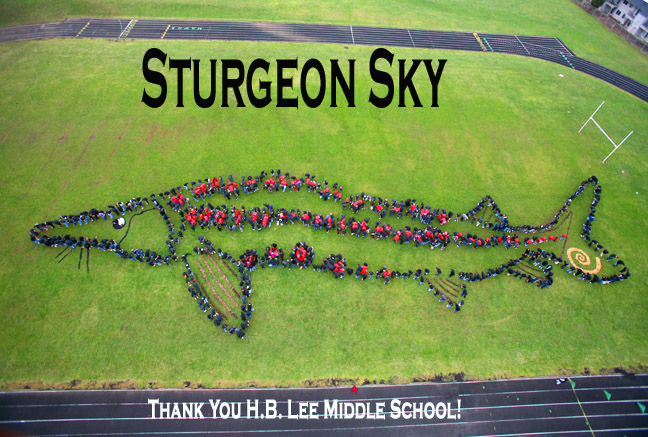 850 students and teachers pay tribute to the world's largest freshwater fish.
Gresham, Orgeon. See story. "Art for the Sky' has enlightened our students to a magnificent kind of art that can only be achieved by the coming together of many individuals to make one. We have been trulyinspired by your vision!"
-Sue Carter, Principal, Gardner School, Vancouver, WA
+ + + +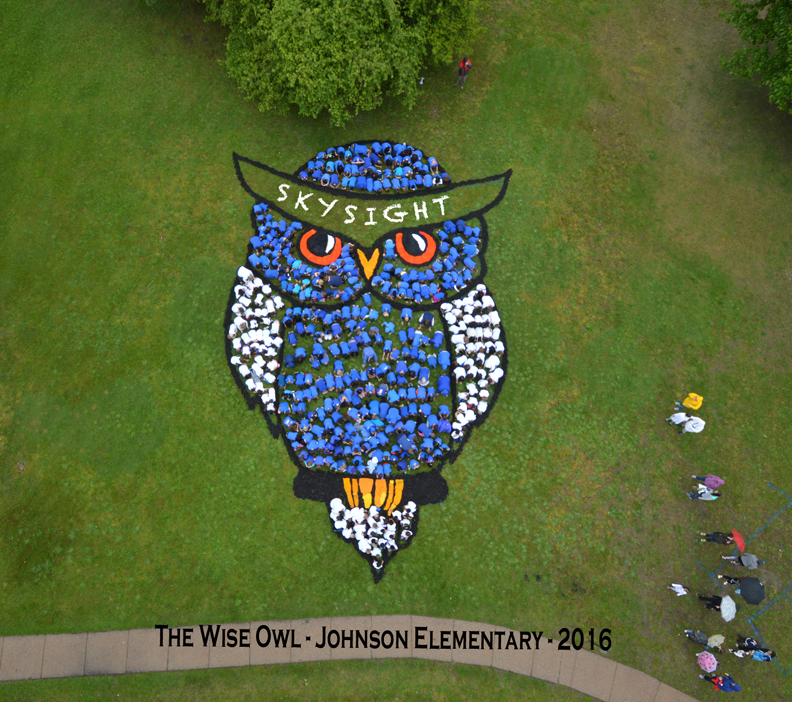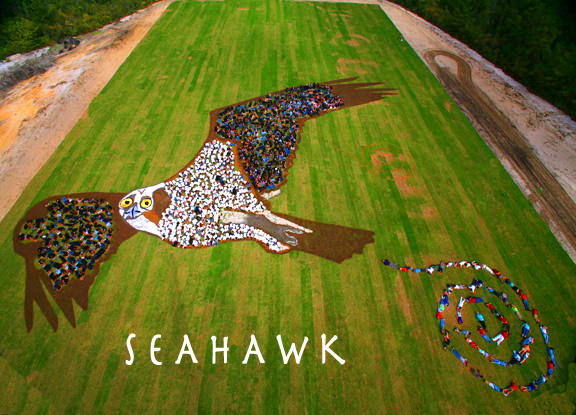 6 1300 participants from Franklin County Schools in Florida,
teamed up with the Apalachicola Riverkeeper to form this giant Osprey.
In terms of mass, this was the largest Art For the Sky project to date. April, 2008.
+ + + +.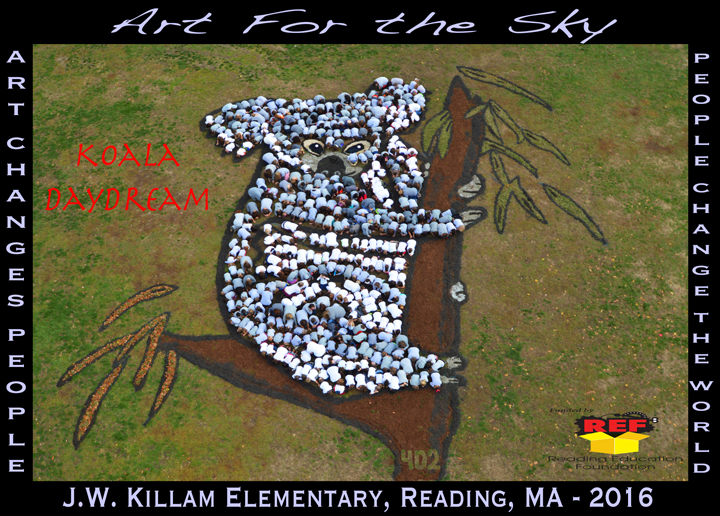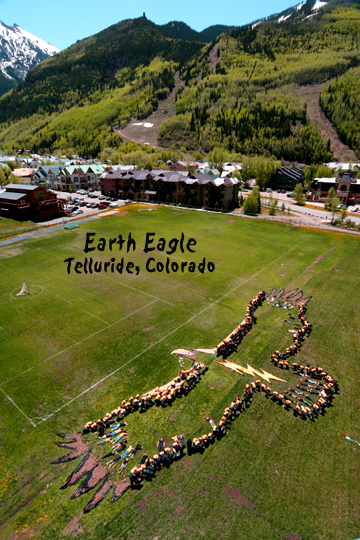 450 children and teachers gather during the Telluride Mt. Film Festival
in 2005 and take the form of a 150 ft. golden eagle. SEE STORY.
+ + + +
+ + + +
A special thanks to all the crane, fire truck and utitlity companies that have donated their services to make photography of these images a reality!
We could not have done it without you!
Sky Gallery Pages