Art For the Sky would like to thank all the thrift shops and landscaping outfits who have provided the many forms of color . . . clothes, dirt, sand, etc., . . . to make our images beautiful. You guys rock!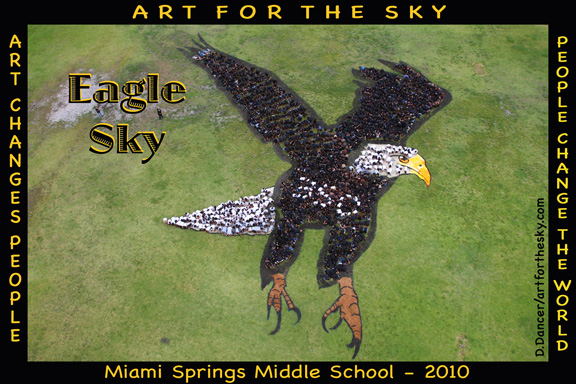 P1400 students and teachers form a bald eagle and feature the number "350" . . . the maximum parts per million of greenhouse gasses we can have in our atmosphere if we want to survive global warming. Right now we are at 390 and going up!

+ + + +


The Redtail's Gift
800 students and teachers at Hawthorne Elementary in Riverside, CA form a redtail hawk carrying
an orange. Their school is surrounded by orange groves. Spring 2013
+ + + +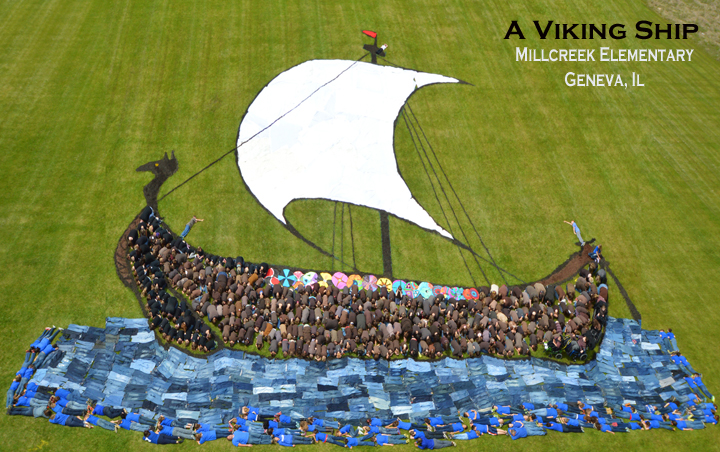 + + + +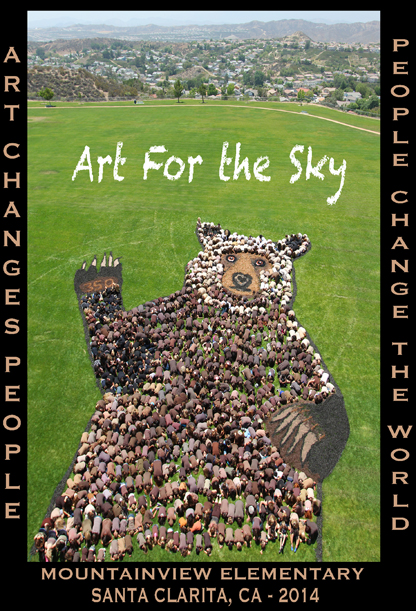 + + + +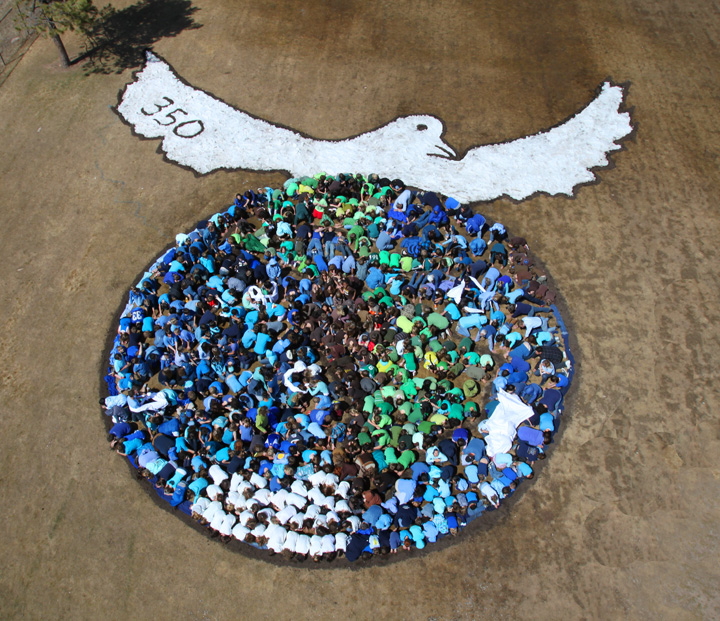 Aspen Planet: To kick off Earth week at Aspen Middle School in Colorado, 500 + students and teachers form an Earth with a white dove made of snow flying above it. In the dove's wing is the number "350" . . . the maximum parts per million of green house gasses that we can have in our atmosphere and still have a healthy planet. Currently we are at 390 and rising . . .
+ + + +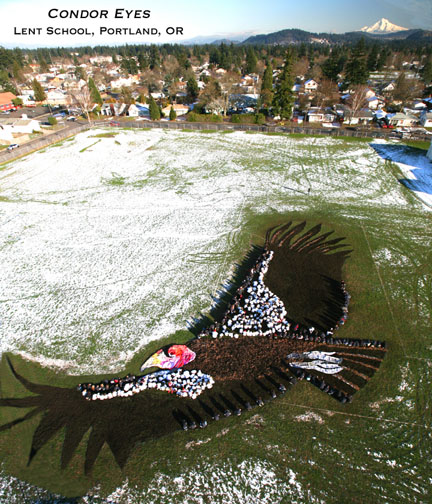 4
January 2007. 450 students and teachers help form the design of the
endangered California condor in a celebration of it's hopeful return to the skys of Oregon. Children learned about the power of awakening their "SkySight" . . . using
our imaginations to see not only from above, but through the eyes of all beings.
(see story in Oregonian)
+ + + +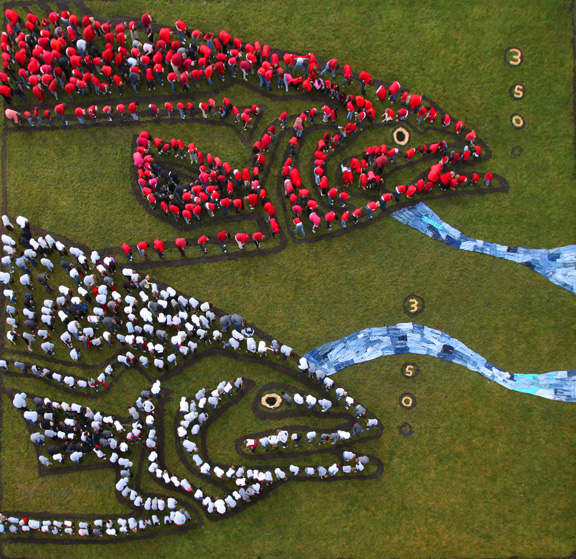 Two Sky Salmon.
700 Students and Teachers from Phoenix and Orchard Hill Elementary
schoolsform 2 salmon bearing the 350 message. Phoenix, Oregon. 2009

+ + + +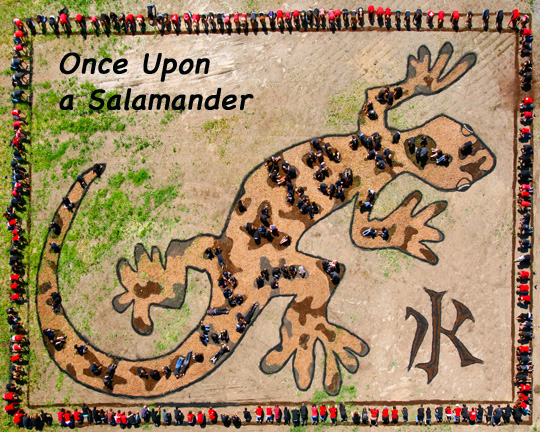 Jefferson Nature center in Medford, Oregon culminated their year long
study of the regional watershed with this multi-school collaboration
of a giant pacific Salamander. Spring, 2009
See newspaper story
+ + + +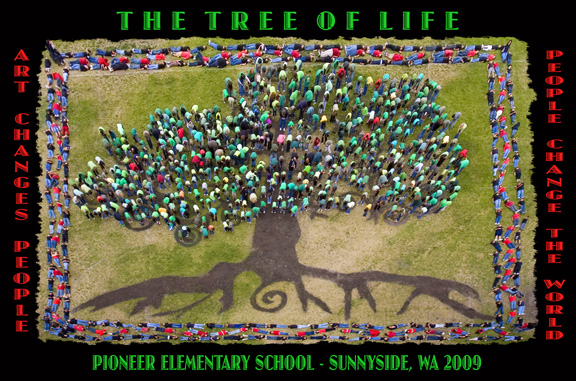 900 students and staff saved up cereal box tops to pay for this Art For the Sky
residency forming the largest Tree of Life image to date.
+ + + +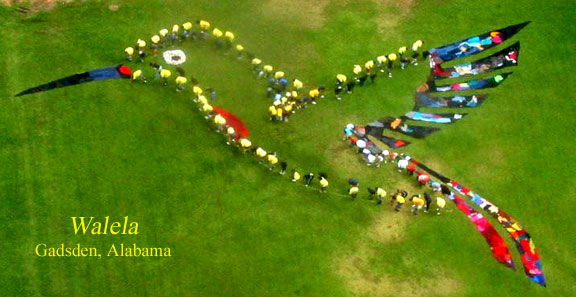 July 2003. 90 middle school youth form a hummingbird (Walela), the Cherokee symbol for hope and joy. Recycled cans form the eye, Salvation Army clothes form the wings, beak and tail. The children decided to point the beak at the city hall in an effort to help the mayor remember to bring a long promised recycling program to Gadsden.. It is now a reality!
+ + + +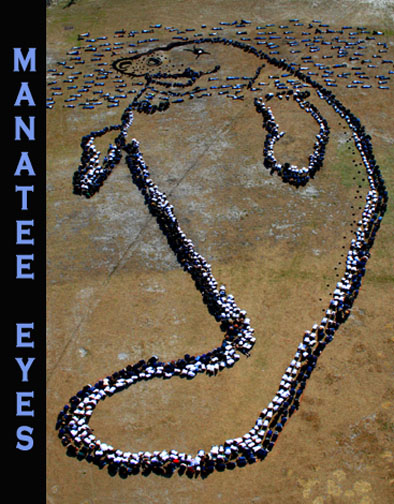 Manatee Elementary School, Port St. Lucie, Florida 2007
1400 students and teachers form a 250 ft tall Manatee
with it's head above the water. Special thanks to Sims Crane
and Equipment for getting me 200 ft high. See Front Page Story
#CCCCCC1
144=+ + + +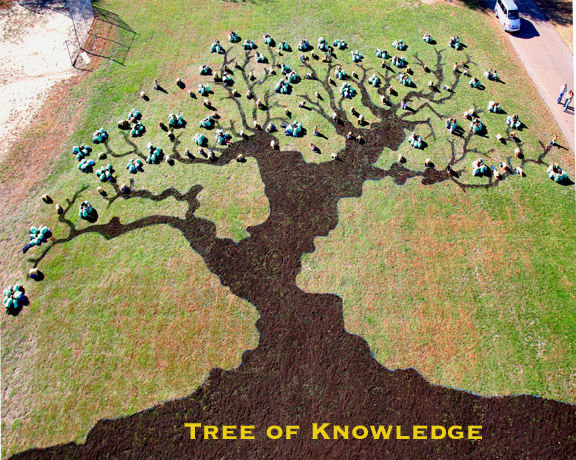 To celebrate their 50th anniversary in 2007, Schwegler Elementary School
in Lawrence, Kansas did a choroegraphed performance of an
Osage Orange tree complete with falling leaves and fruit. See
the video in the video gallery . . . it's an amazing one!
See TV story!
+ + + +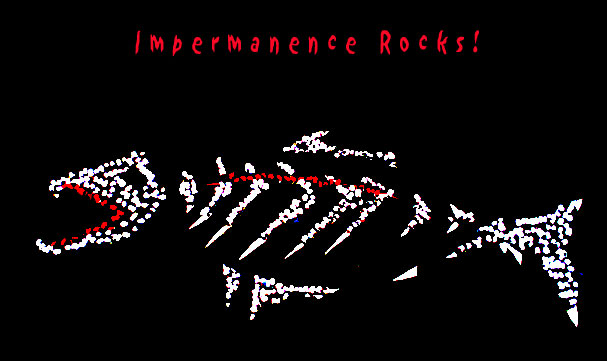 S K Y B O N E S - Dry Hollow Elementary, The Dalles, OR. 2004.
450 kids and teachers
+ + + +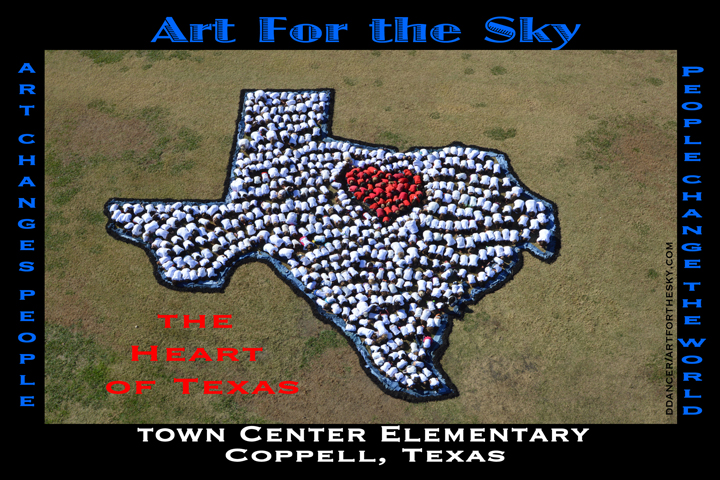 + + + +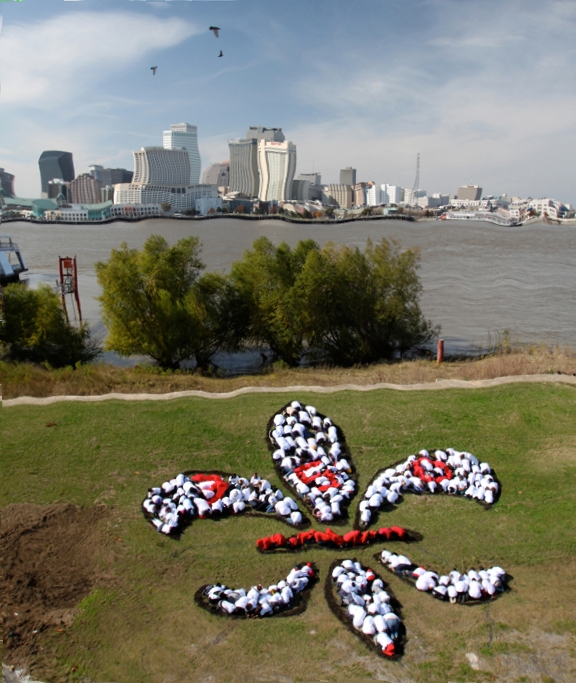 350 - Fleur de Lis
200 kids and teachers from New Orleans schools collaborate to form the anceint symbol so popular in New Orleans. 350 signifies the maximum parts per million of carbon we can have in our atmosphere if we are going to survive global warming.
+ + + +
+ + + +

Presidio Middle School in San Francisco first form a chrysalis and then
its transformation in to the endangered Mission Blue Butterfly above. Fall 2008
See San Francisco Chronicle front page story.